Printable, sharable product flyers.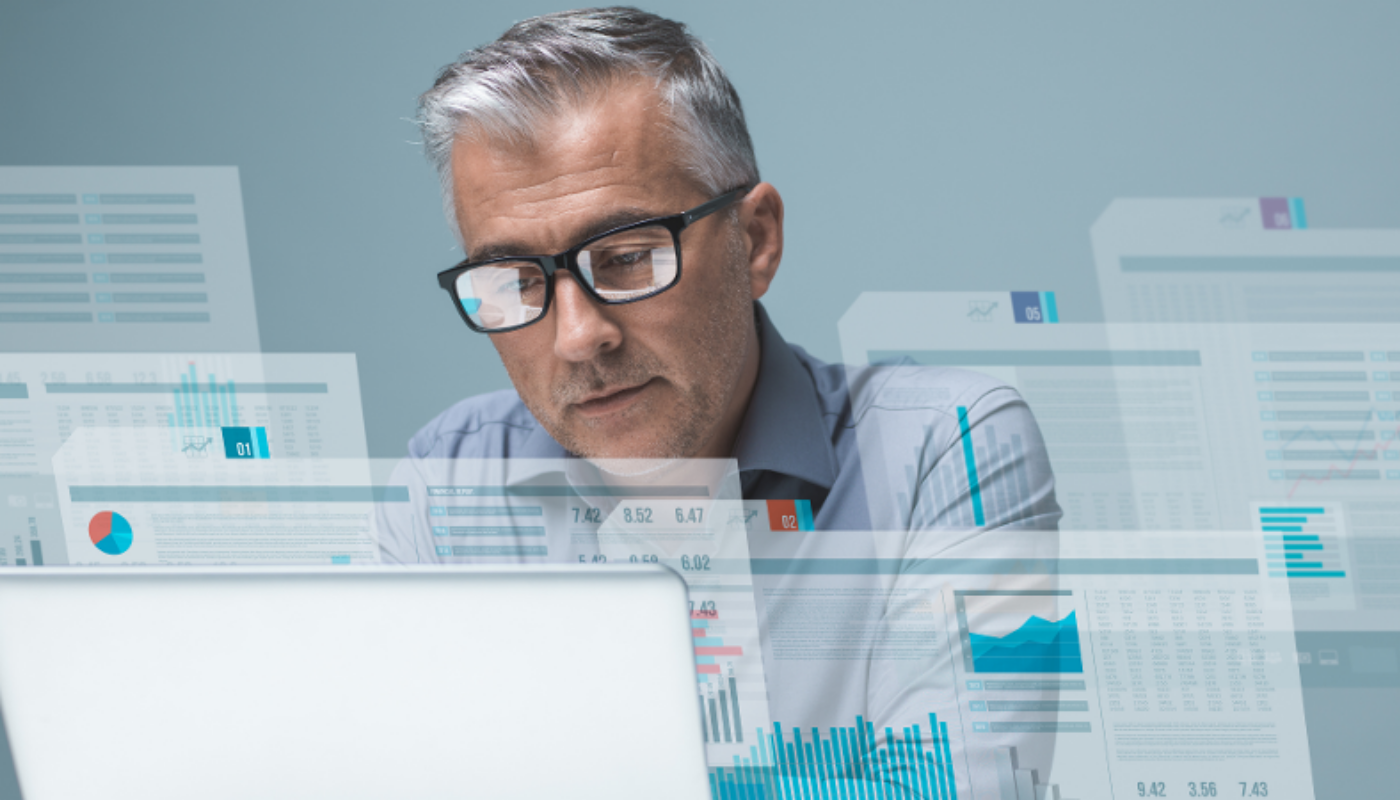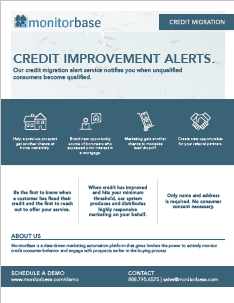 Credit Migration Alerts
Our credit migration alert service notifies you when unqualified consumers become qualified.
Be the first to know when a customer has fixed their credit and be the first to reach out to offer your services.
When credit has improved and hits your minimum threshold, our system produces and distributes highly responsive marketing on your behalf.
Only name and address is required. No consumer consent necessary.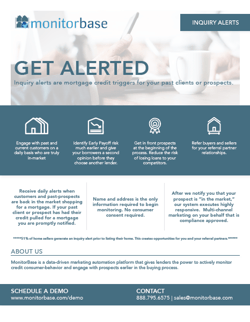 Inquiry Alerts
Inquiry alerts are mortgage credit triggers for your past clients or prospects.
Engage with past and current customers on a daily basis who are truly in-market.
Identify Early Payoff risk much earlier and give your borrowers a second opinion before they choose another lender.
Get in front of prospects at the beginning of the process. reduce the risk of losing loans to your competitors.
Refer buyers and sellers for your referral partner relationships.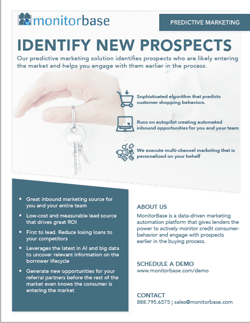 Predictive Marketing
Our predictive marketing solution identifies prospects who are likely entering the market and helps you engage with them earlier in the process.
Sophisticated algorithm that predicts customer shopping behaviors.
Runs on autopilot creating automated inbound opportunities for you and your team.
We execute multi-channel marketing that is personalized on your behalf.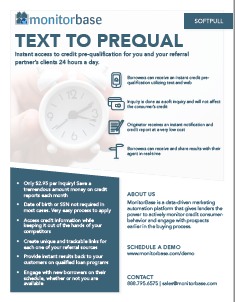 SoftPull
Instant access to credit pre-qualification for you and your referral partner's clients 24 hours a day.
Borrowers can receive an instant credit pre-qualification utilizing text and web.
Inquiry is done as a soft credit inquiry and will not affect the consumer's credit score.
Originator receives an instant notification and credit report at a very low cost.
Borrower can receive and share results with their agent in real-time.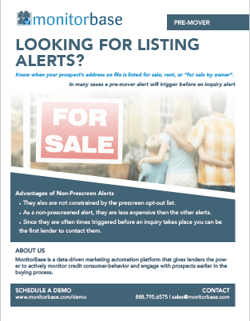 Pre-mover: Listing Alerts
Know when your prospect's address on file is listed for sale, rent, or "for sale by owner". In many cases a pre-mover alert will trigger before an inquiry alert.
They also are not constrained by the prescreen opt-out list.
As a non-prescreen alert, they are less expensive than prescreened alerts.
Since they are often times triggered before an inquiry takes place you can be the first lender to contact them.
Email Firm Offers
Deliver firm offers digitally via email for real-time feedback on client interest.
Engage with your previous customers based on knowing they are in the market and interested in your offer.
Prioritize outreach based on who has looked at your offer today, even if they are an older alert!
Receive more inbound phone calls, as well as email responses and requests for more information.
Fulfill compliance requirements automatically so the offer is with the client before you call.